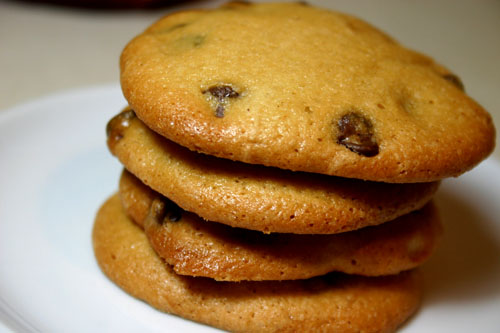 This isn't hype people. This is the real deal. I am not lying when I say that I have developed the best gluten-free vegan cookies known to humankind. I do have someone to thank for this—Alton Brown. Alton did a Good Eats episode called Sub Standards that dealt with culinary substitutions and replacements, and thus was born his Chewy Gluten-Free Chocolate Chip Cookie.
If anyone didn't know, I have an extreme and perhaps weird crush on Alton Brown. While he does sometimes promote things that aren't complete fact, for the most part he has a great knowledge of food chemistry. And this knowledge is very important when you are trying to remove things from food items that upset your system.
As some of you know, I am dealing with some health issues right now and am currently going through an elimination diet (not low calories, just removal). In my normal daily diet I have to have chocolate. It is a part of my blood and oxygen supply. It is also one of the few things I don't have a problem eating.
Since I can't eat peanut butter or dairy (two of my favorite things), I was going to be damned if I didn't eat chocolate. And my favorite means of chocolate delivery is via the cookie.
Oh, But Wait, I Can't Have F**king Gluten! What Am I Supposed to Do?
Well, I was enjoying Lucy's Chocolate Chip Cookies, an amazing cookie by the way, but I honestly can't justify the cost and apparently the stores can't keep up with my demand. So I said to myself—you must make the cookies!
It turns out that this plan was brilliant on many levels.
1. Homemade cookies taste way better. Who doesn't enjoy the taste of fresh baked cookies? No one, that's who.
2. You can make the amount you need/want at a time. You buy a box of cookies and it's see you later no matter how much you say, "Oh, just one more."
3. You have to work for it. It burns more calories than opening a box.
4. You dictate the size. Smaller cookies means more physiological pleasure.
5. Cheaper as a muther! Gluten-free cookies are expensive. My version costs $5 for 60+ cookies. You can make them for cheaper still if you buy flour and chocolate chips in bulk. This cost is based on a simple grocery store trip.
Changes From the Original Recipe
Alton's recipe had a few problems for me. First, it had dairy and I can't eat that right now. The other is the fact that it was pretty high in calories. Now, this recipe is in no way low calorie, but it certainly is LOWER in calories than the original. Also, let me make it clear that I am not, in any way, saying that anything is wrong with regular chocolate chip cookies. So with that being said, I would choose these over Nestlé® Toll House® cookies anyday.
Aside from that, I made small adjustments to the sugar content, oils, and flour/starch combos.
Lastly, I have no qualms about saying these are the best because they are.
Best Gluten-Free Chocolate Chip Cookies Ever
Ingredients:
11 oz Bob Mill Gluten Free All Purpose Flour
1.25 oz Bob's Mill Potato Starch
7 oz Smart Balance Light Butter
1 tsp Xanthum Gum
1 tsp Baking Soda
5 oz White Sugar
6 oz Light Brown
1 Egg White
40 g Oil
2 tbsp Almond Milk
1-1/2 tsp Vanilla Extract
7 oz Vegan Semi Sweet Chocolate Chips
Instructions:
1. In a medium bowl, sift flour, starch, xanthum gum, and baking soda together.
2. In a large bowl, melt butter and mix with the sugars.
3. Add oil, milk, egg white, and vanilla extract to the butter/sugar mixture.
4. Slowly add the sifted flour to the sugar mixture and combine thoroughly.
5. Cover bowl and place in refrigerator for at least an hour.
Baking:  
1. Preheat oven to 300°F.
2. Place parchment paper on a large flat cookie sheet.
3. Use a spoon to scoop out whatever size of cookie dough you want and place it on the baking sheet. The larger the cookies, the longer the bake time. Not responsible for taste and quality of oversized cookies.
4. Bake cookies for 20 minutes or until lightly brown around the edges. Adjust time as needed for size and oven.
5. Remove from oven and let cool for at least 5-7 mins before moving. Serve.
The real trick is the slow cook. If you get more of a flaky (instead of chewy) result, use a lower temperature next time. Also, do not touch them until they are cool—seriously. Leave them alone. They need more time to cool than normal cookies.
I am happy to report my chocolate craving has been satisfied. I look forward to the day when I can return to more of a normal eating pattern for myself—so far though, it hasn't been so bad.