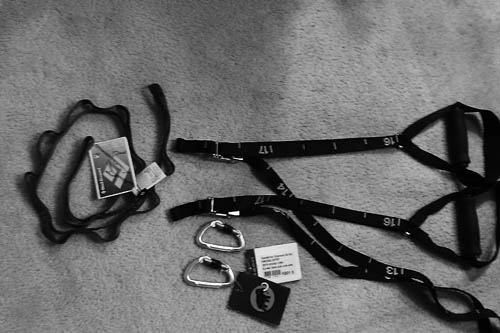 Really quickly let me say (and I state this in the video) that I really like TRX Trainers and if you can get one, that's great. However, cost is an issue for a lot of people, especially right now. I already reviewed other suspension training systems and showed you one homemade version along with an alternate version called the Freestyle Trainer. However, some people still wanted to know if they could easily and cheaply (literally) turn their Freestyle Trainer into a carabiner TRX style system. The following is my solution to this problem.
Below are links where you can get everything you need. If you want to save a little money in shipping costs, I would check to see what your local outdoor store or rock climbing facilities have available. I literally biked up the street, picked up the materials, and put it together in three minutes tops.
Step 1 – Put together your Freestyle Trainer as directed, leaving off the "S" rings at the end.
Step 2 – Attach each strap end loop to carabiner #1 and slide to bottom corner.
Step 3 – Attach carabiner #1 to the bottom loop of the daisy chain.
Step 4 – Attach carabiner #2 to the top loop of the daisy chain.
Step 5 – On a pull-up bar (beam, tree, playground equipment, etc.) wrap the daisy chain strap around the bar/limb and connect to one of the loops on the other side.
You are now ready to train.
Again, if you can find the last two items locally, you will probably save some cash.