This challenge begins Monday, July 1st at 12:00am EDT and ends Friday, July 26th at 11:59pm EDT.  Participants must download, read, and agree to all terms, rules, and disclaimers in the PDF here before, during, and after the challenge. 
Learn how to be happy with what you have while you pursue all that you want



― Jim Rohn
---
The efforts of personal development can be an arduous experience. This is an attempt to make it a little more fun and earn a reward or two.
---
How To Play
– – – – X

Like traditional bingo, mark off five across, diagonal, or down in order to get bingo. There are also "X" and "full card" bingo wins.
How To Enter For Bingo Drawing
– – – – X

1. Follow me at @leighpeele
2. Share one or many posts and tag me @leighpeele with a picture of your card/list/squares/activity (you have free range creativity)
3. Use these two hashtags in your posts: #personaldevelopment and #LPbingo
That's it.
I use the honor system but you're more than welcome to show pictures, proof, stories, and share your bingo with us.
If you are a member and not on Instagram, you can participate in the posts created in the group. 
25 Days To Do As Many Blocks As You Can
– – – – X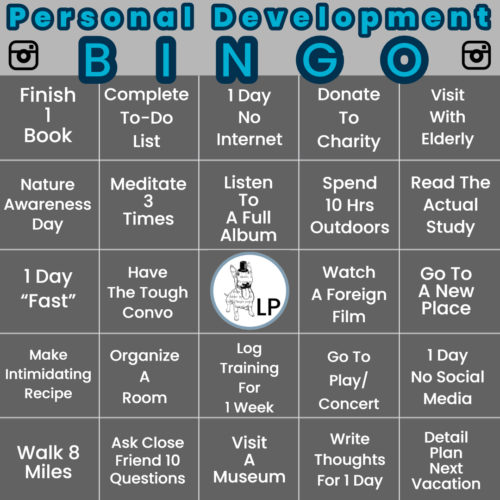 Here's a list and explanation of each square.
Finish A Book
I'm a bit guilty of starting books but not finishing them. Sometimes it's because they aren't good (I trade those in and don't waste my time); however, sometimes I'm waiting for the right moment to finish it or I get distracted and prioritize other reads. Point is, finish the whole book.
Nature Awareness Day
I'm a big believer in being better to the natural world and animals around us. Take one day and try to acknowledge your surroundings from the smallest ants crawling on the sidewalk to the age of the trees sprouting from the earth. We all start and end with what's outside our doors. Take the day to look more closely and intensely at the living world often overlooked.
1 Day "Fast"
Let me disclaimer: All diet alterations need to be approved by your RD or GP before starting. With that clear, this is not about not eating all day, although it can be if desired. It's more about spacing out your feeding window and challenging your eating comfort zone. Be it a 16-hour window or 24-hour one, play with your meal timing.
Make Intimidating Recipe
Cooking is important to me and a big foundation of my world. Challenge the comfortability of your cooking abilities. For some, it may be eating food not cooked in the microwave, and for others (me), it's breaking in a new Tajine pot.
Walk 8 Miles
It can be broken up over the day, but the point is to stretch your typical boundaries. If you have an injury or issue, don't feel discouraged. You can bike, row, or swim instead.
Complete To-Do List
People make a lot of lists but don't always check them off. You might have picked up on the themes of this challenge: testing your comfort zones and finishing or experiencing things. This one tackles both.
Meditate 3 Times
There are all types of meditation styles. Choose one that's right for you, but make sure, over these next 25 days, to do three full sessions of whatever type you choose.

Have The Tough Conversation
If you've been putting off a difficult conversation, now is the time to have it. It doesn't have to be family therapy, it can be catching up with a business colleague or reaching out to an editor. If you've been avoiding something like this because it's hard or you're scared, now's the time to give it a shot.
Organize A Room
Be it a closet or the entire room, clean it out and get it arranged.
Ask Close Friend 10 Questions
Sometimes the people we've known longest are the ones who don't get the attention they deserve. Make believe you've just met your best friend, spouse, parent, whomever for the first time again.
1 Day No Internet
Odd because this is an internet challenge, but unplugging is important. Take one day and don't check Facebook, your email, or any news.
Listen To A Full Album
Rather than listening to random playlists or radio stations, take the time to pick one album and listen to it, with meaningful attention, from beginning to end.
Log Training For 1 Week
Warm-up to cardio or PRs. If you've been slacking on the details, take the time to write things down and tinker with your programming.
Visit A Museum
If the closest thing you have is a coffee table art book, that works too. Ideally, wander around a museum or immerse yourself in works of art at a local gallery wherever you are in the world.
Donate To Charity
It can be time, cash, or things—simply put, give back.
Spend 10 Hours Outdoors
Hike, walk, swim, or play. Spend a total of 10 collective hours outdoors.
Watch A Foreign Film
Foreign films aren't just about reading subtitles, they are about reading culture, body language, and cinematic movement.
Go To A Play/Concert
Without holding your phone aloft, take in a few hours of live entertainment. It's like YouTube but IRL.
Write Thoughts For 1 Day
Take one day to write down everything you can think of that passes through your mind from the time you wake in the morning to when you fall asleep at night. See what weird and beautiful things pass through that mind of yours.
Visit The Elderly
If lucky, we will all move into the elderly stage of life. In many countries, the way we treat our elderly is tragic, not to mention bizarre, considering they will be us in the blink of an eye.
Read The Actual Study
Instead of reading books or articles referring to a study and its takeaways, take time to read just one complete study in order to understand the process on a deeper level.
Go To A New Place
Sometimes the most interesting places are right under our noses. Go somewhere you've never been in your own city or town.
1 Day No Social Media
You can do this on "No Internet Day" and kill two squares at once.
Detail Plan Your Next Vacation
If your dream vacation is to sit and read by the pool all day, that counts too. If you're going somewhere and want to explore, take some extra time to plan a vacation you might not have expected.
---
---
Prizes

"What Do I Get For Completing 5 In A Row?"

Pride in your hard work and the knowledge you gained.
No? Not enough. Okay.
I'll enter you in a drawing for one free month of membership, a t-shirt, and a copy of my new book when it hits print.
"What If I Get X Bingo?"


I'll enter you in a drawing for a 45-minute phone consult with me on any topic, one free month of membership, a t-shirt, and a copy of my new book when it hits print.
"What If I Get Full Card Bingo?"

I'll enter you in a drawing for a custom coaching program in body composition or development, one free month of membership, a t-shirt, and a copy of my new book when it hits print.
---
Participants must download, read, and agree to all terms, rules, and disclaimers in the PDF here before, during, and after the challenge.