There are few (and I mean few) materials I consider to be essential in the world of body composition. Burn the Fat, Feed the Muscle by Tom Venuto is essential. Sometimes when something is essential we just assume it is understood by others. The other day, I was fielding off an uninvited conversation and somehow worked in a Shawshank Redemption quote. Needless to say, it landed on deaf ears. I just assumed everyone has seen one of the greatest movies of all-time, but the truth is a different story. So for now, I can't assume everyone has read this great book; I have to assume they haven't.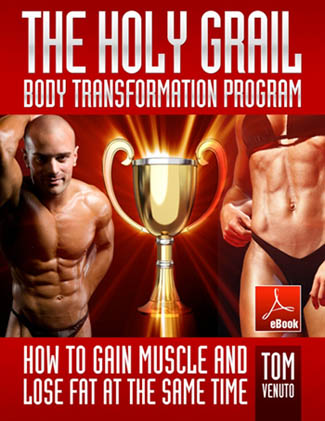 The Material (or Has Tom Lost His Mind?)
The Holy Grail is Tom's new program. He gave me this version to offer exclusively through this special link. It is only available here.
When I read the intro to The Holy Grail I thought, "What? What is Tom thinking? Has he sold out?" Then, I read the program, and I kid you not, the first lines are…

To be truthful, I never once suspected Tom of being anything but completely ethical. I was curious how he was going to approach the subject of "gaining muscle and losing fat at the same time!" The topic is a bit involved, but I assure you, there is nothing more to be said on the issue beyond The Holy Grail. Where most people would have stopped, Tom keep going and going. This is literally a 74 page manual on the subject. It doesn't get much more detailed than that.
The best part? You get it for free when you purchase Burn The Fat, Feed The Muscle today only through this link. When Tom says "today only" he means it. I also explored the main Burn the Fat site and I don't see it anywhere, so I think you should take advantage of this great extra. Now, let's talk about BFFM.
Burn The Fat, Feed The Muscle
The meat of what you get is simple. You get over 300 pages of well-written and easy to understand material. It is about burning fat, training, nutrition, and everything in between. Tom's information is simple to understand scientifically, and it's very easy to digest. I feel like Burn the Fat, Feed the Muscle is extremely accessible and will not intimidate people. You also get a couple of "bonus reports" plus The Holy Grail through this site.
Who Is It For?

Anyone.
The material is pretty cut and dry, and IMO focuses on the issues that really matter. It is upfront and honest and doesn't include information that is not needed for 99% of you. If someone is new to this subject, they will find it easy to comprehend.
Tom is also planning updates, and like myself, gives them free of charge to all former customers. I can speak from personal experience regarding how he treats his customers. I have sent people in my personal life to buy his material, and every single one of them had a great experience and received help when needed.
Bottom Line
I don't want this review to seem like all rainbows and sunshine, but it is solid information. The price point is good, and I agree with most of the material. There are some things Tom is a bit more rigid about nutrition-wise than I am, but that is about it. You might ask, "Why bother, if I have your amazing, awesome material Leigh?" but you just never know. Sometimes, someone says something in a way that makes it click differently to help you get through the b***h called "fat loss." As this is one of the few fat loss books/authors you will ever see me affiliate or support, you can believe I truly stand by it.
You can get Burn The Fat, Feed the Muscle and The Holy Grail here.
You can find out more information about Tom Ventuo here.
Am I an Affiliate for This Product?
Yep, and proudly. I would only affiliate something I support, so you should take that as a good thing. That being said, if you don't want to get it through this site, no problem, just Google it. But you will miss out on The Holy Grail bonus because it is not normally offered. That being said, sales of this product from this site will go to support leighpeele.com. I did not receive Burn the Fat, Feed the Muscle in exchange for a review; in fact, I bought it five years ago just because I wanted to.