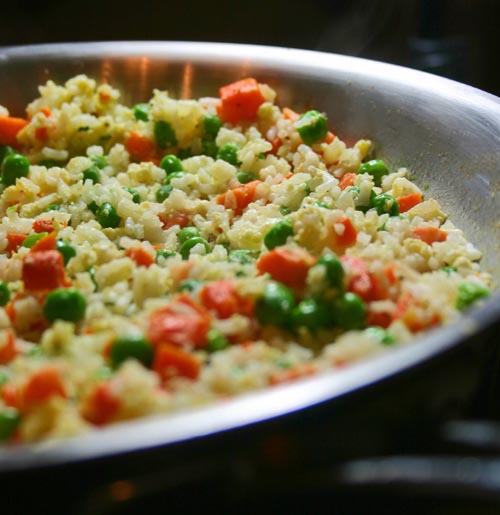 When I released Body By Eats, people wanted the chance to get the cookbooks one at a time or in sets. They begged me for the ability to purchase them regardless of being a member. Let's just say, I delivered.
The cookbooks are now available to buy one at a time, in sets, or as a full collection. You can find more information here.
Note: Members get up to 35% off the cookbooks, just for being a member. You also get the cookbooks that are released every month you are a member—for free! If you are a member, go to this special product page to get your cookbooks now.
The Recipe
This is one of my favorite recipes. I eat this all the time! A lot of people don't think about adding egg whites to rice, but the combination is amazing. You can add all types of veggie combos to this spice palette as well. It goes great with snap peas, bell peppers, edamame, broccoli, etc. Try this, you will not be disappointed.
Recipe Notes and Tips
1. You can use any type of rice you want for this recipe. White and "sushi" rice create a great sticky and starchy texture that I enjoy. Wild rice has a tougher texture.
2. If you want to kick up the flavor and caloric burn, use fresh vegetables. I only use fresh veggies with this meal and I assure you it does make a difference. Of course, I realize not everyone has time for that. This meal was designed for ease and simplicity, but that doesn't mean it can't be upgraded in sophistication and flavor. You can easily change the white rice to wild rice and swap the peas for edamame and you will have a completely different meal.
3. I am not carbphobic or think "white" anything is evil. White rice is generally easier to digest and hinders less nutrient uptake than brown rice. Glycemic changes are minimal with mixed meals. Take home point, choose your rice for taste and how it works with your digestive system.
4. If you are vegetarian, this dish provides a lot of protein and variety in one meal. In fact, it is featured in the Vegetarian/Vegan Cookbook collection.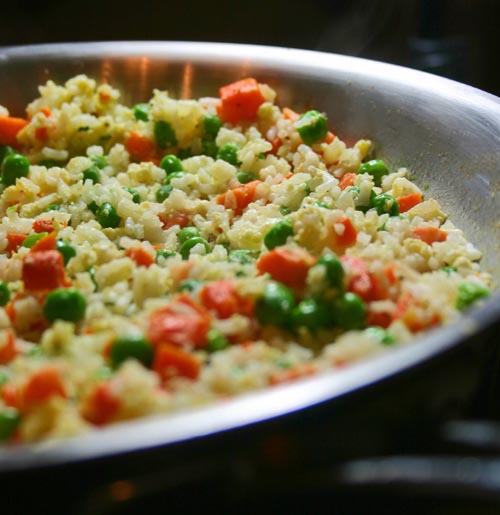 Ingredients in Grams/Ounces:
95 g White Rice
42 g Light "Butter"
18 g Garlic Cloves, Chopped
128 g Carrots (Small Diced, Frozen)
145 g Green Peas (Frozen)
3 Large Egg Whites
1 tsp Onion Powder
1 tsp Salt
1/2 tsp Pepper
Ingredients in Cups/Spoons:
1/2 cup White Rice
3 tbsp Light "Butter"
2 Garlic Cloves, Chopped
1 cup Carrots (Small Diced, Frozen)
1 cup Green Peas (Frozen)
3 Large Egg Whites
1 tsp Onion Powder
1 tsp Salt
1/2 tsp Pepper
Directions:
1. Prepare rice as directed on package, omitting any salt or butter. Set aside and keep warm. Works best if rice is a tad on the soft/sticky side.
2. In a large skillet, melt 1/2 of the butter with minced garlic on medium low heat. After 2 minutes, add in carrots. Cover and let cook/simmer for 5-6 minutes.
3. Remove cover and add the remaining butter, peas, onion powder, salt, and pepper. Cook for 2 more minutes.
4. Add rice and egg whites. Keep moving and mixing the food in the skillet until the egg is cooked. Serve warm.
Yields 2 Servings
Serving: Calories- 358.54, Protein- 13.99 g, Fat- 9.36 g, Carbs- 54.58 g, Fiber- 7.11 g, Sodium- 1417.18 mg
Entire Recipe: Calories- 717.08, Protein- 27.98 g, Fat- 18.72 g, Carbs- 109.17 g, Fiber- 14.21 g, Sodium- 2834.37 mg
Like this recipe? Want more? Grab a cookbook now!