30-Second Post-Workout Eats: Protein Pudding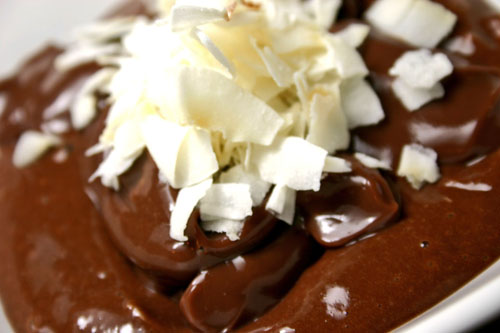 This is the ultimate of easy eats. Better yet, it is a great post-workout snack for the following reasons.
1. It's quick.
2. It's extremely easily digested and knocks out PW jitters.
3. It has a great balance of fats, carbs, and protein.
4. It's gluten-free.
5. Did I mention it was easy?
Quick Notes
-Yes, it has sugar. I am not a fan of many splenda/sugar free brands, plus we are talking post-workout. That being said, if you want a dairy and sugar-free pudding, try this pumpkin pudding – Pumpkin Pudding.
-If you want a natural pudding, try Kozy Shack. They have all types and varieties.
-This can be made low carb if so desired. Simply use a sugar-free alternative.
-Protein powders make puddings a little runny. If you want to beef up the texture, add a 1/8th tsp of xanthan gum and stir for 30 seconds to 1 minute. You can also re-chill after mixing.
-For more texture, add nuts, dried fruit, etc. The sky is the limit. I like coconut flakes in mine.
Ingredients:
140 g Chocolate Pudding (pre-made or pudding packs)
25 g Chocolate Protein Powder
Directions:
1. Add, stir, done. 30 seconds.
Serving: Calories – 282, Protein – 25 g, Carbs – 29.5 g, Fat – 5 g
Want More of These Kinds of Recipes?
This recipe and others like it can be found in the Protein Powder Cookbook from Body By Eats. You can check it and more out at Body By Eats.com.