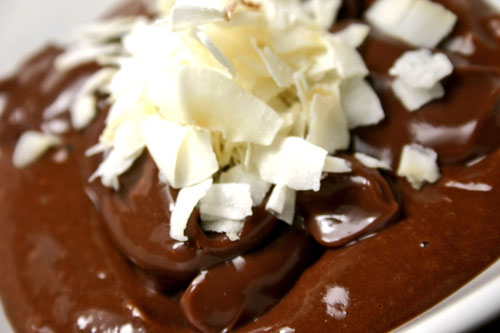 This is the ultimate of easy eats. Better yet, it is a great post-workout snack for the following reasons.
1. It's quick.
2. It's extremely easily digested and knocks out PW jitters.
3. It has a great balance of fats, carbs, and protein.
4. It's gluten-free.
5. Did I mention it was easy?
Quick Notes
-Yes, it has sugar. I am not a fan of many splenda/sugar free brands, plus we are talking post-workout. That being said, if you want a dairy and sugar-free pudding, try this pumpkin pudding – Pumpkin Pudding.
-If you want a natural pudding, try Kozy Shack. They have all types and varieties.
-This can be made low carb if so desired. Simply use a sugar-free alternative.
-Protein powders make puddings a little runny. If you want to beef up the texture, add a 1/8th tsp of xanthan gum and stir for 30 seconds to 1 minute. You can also re-chill after mixing.
-For more texture, add nuts, dried fruit, etc. The sky is the limit. I like coconut flakes in mine.
Ingredients:
140 g Chocolate Pudding (pre-made or pudding packs)
25 g Chocolate Protein Powder
Directions:
1. Add, stir, done. 30 seconds.
Serving: Calories – 282, Protein – 25 g, Carbs – 29.5 g, Fat – 5 g